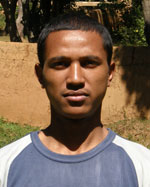 My name is Hoby. I am 27 and live with my wife and my daughter at Ambohijanahary which is in the suburb of Tana and 35 minutes from Ivato village where the international airport is situated.

Well, I was like the black ship of the family until my older brother Andry could open my eyes to face my future life. Andry paid my driving license and my English study. He taught me about the wildlife and shared to me all his knowledge about the Malagasy traditional culture…

I went with Andry on many different tours for my training and from July 2008, I started to guide tourists myself and I got experienced tour after tour.

I will be glad to be your tour guide for your visit here in Madagascar

All my best,

Hoby