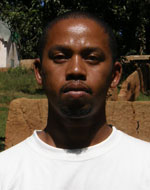 My name is Iaby, I am 23 years old. I live with my family members in Tana where I studied Tourism at the National Institute for Tourism and Hostelry.

I studied English at the American cultural center, I also trained in different National Parks and Isalo National Park is my favorite place in Madagascar. I am very keen to hike and guide tourists in the rain forest too.

I started as a free lance tour guide with Andry last year and I hope we will have a long way to work together.

I have a very good knowledge in the wildlife and in the Malagasy culture. I would like to share my knowledge and experiences to you.

I wish you will come to enjoy your visit with us.

Sincerely,

Iab