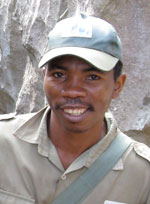 My name is Narcis, I am 33. I'm married and have 2 children, the first is a girl and the second is a boy.

Well, I am local tour guide in Bekopaka. Bekopaka is a village next to the Tsingy de Bemaraha National Park where I am working to develop our local community.

I have 8 years experience as a local tour guide. As I am a local tour guide here in Bekopaka, I had several training under the ANGAP organization.

Andry and I share the same passion in the birds of Madagascar. We did many hikes together and I gave him a lift to set this new Manambolo River tour locally called OLE
I am here to guide you for your visit to the Tsingy de Bemaraha National Park.

Tsingy de Bemaraha is the only National Park on earth where there are still places where people couldn't set foot on yet.

I highly recommend the visit of this OLE under the Manambolo River tour for your honey moon.

I look forward to meeting you soon

Narcis